Are you a businessman? 8 important things to do before GST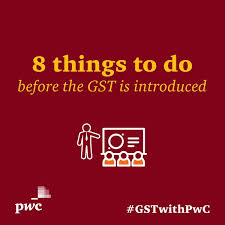 GST GET REGISTERED FOR GST
Under
GST
laws, entities supplying taxable product and services
need to be registered all the states from which these will be supplied. The entity already registered in a state under  existing law should be migrated to
GST
regime. Unregistered entities will have get registered in specific states from which supplies are made. The window for this is likely to open from June 25 for month or so.
GEAR UP IT SYSTEM TO ISSUE INVOICES FROM DAY 1
IT systems will need to readied, and all the requisite changes made, to issue invoices from the first day of GST regime. Invoice formats will have to be a amended as soon as possible. Moreover, according to GSTIN requirements, customer related data as well as tax codes and conditions will need to be updated in IT systems and configured to generate reports required for GST.
TRAIN YOUR TEAM & STAKEHOLDERS
It is imperative that all employees and supply chain partners, such as a vendor and distributors, C And F agents, are trained well on amendments in the law. And since the GST law envisages seamless passing and credit of taxes only on suppliers' compliance with its requirements, it imperative that all stakeholders are appropriately educated on the compliance-related requirements.
FINALIZE YOUR TAX POSITIONS
Supply of goods or services will attractive tax in the GST regime. Credit provisions will also see changes. In the addition, if a company is registered in different states, it will be treated as a distinct entity for levy of GST. Considering the quantum of changes, irrespective of whether In order to determine the tax treatment of the transactions. After the mandatory tax treatment is determined, the transaction will need to be configured in the entity's IT system.
REVISIT AND UPGRADE YOUR BUSINESS PROCESS
From taxation being imposed on manufacture or sale of goods and provision of services under the present system, it will move to GST being levied on supply of goods and services. In addition, there are various other procedural amendments, such as self-invoicing in case of purchases made from unregistered vendors, reversal of credit in the case of non-payment of consideration for goods, etc. Such amendments in the law will necessitate significant changes in various business processes and it will be necessary for entities to assess the impact of these and change the processes, wherever required.
AMEND YOUR CONTRACTS WITH VENDOR AND CUSTOMERS
Under the existing indirect tax regime, a correlation between the location of receipt of input services and receipt of invoices for such services any location in India is not required. In the GST regime, since the credit pool for every state their need to be maintained separately, it is necessary to ensure that an invoice for input services is received at the place where credit of such services is eligible. This will need an analysis of procurement of services and amendment of contracts with service providers, where required. Similarly, contractual terms with customers will have to reassessed and revised, if needed.
DETERMINE YOUR PRODUCT PRICING EARLY
At present, the margins of supply chain partners such as distributors and retailers computed on the assumption that they are only liable to pay VAT on their sales price. And accordingly, their margins will need to be recomputed due to the changes in tax rates, availability of credits. And in addition revised margins for supply chain partners, the impact on tax credits and movement in the tax rate along with anti-profiteering provisions under GST is require companies to the prices of goods or services supplied by them. Therefore, they will need to determine the overall impact of the new taxation regime on their businesses before taking any decisions on pricing.
CLAIM CREDIT FOR TAXES IN TIME
GST provide for carry, forward of accumulated tax credit and claiming crediy of various taxes paid on stock in hand, subject to fulfillment of the prescribed conditions. Furthermore, for carry forward by their VAT credit balance, taxpayers will have submit their sale tax declaration forms or certificates in Form C, Form F, Form H, etc.., The relevant declaration forms and certificates not been submitted to authorities. So there is an urgent need to accelerate submission of these forms — sooner rather than later!
Products and Services
GST Invoicing
Get your organization ready with our GST compatible invoicing
GST Filing
GST compliance cloud-based automated solution for Charted Accountants and Tax Consultants
GST Consulting
Custom product development for your GST needs.
A team of GST experts available to help you with your Queries. Send us an email at  queries@gstreporting.com
Key Features
Real-Time Notifications
Notifications of pending returns Due dates and mismatches
Robust Platform
Experience cutting-edge technology that is reliable and highly scalable.
Safe & Secure
All of your data is safe and never worry about hard-drive crashes
Mobile Solutions
Access data any time from multiple locations through this cloud-based platform.
Auto Reconcilation
Eliminate human errors and let system re-concile the returns for you
Multiple Users
Allow data access to multiple users with access permissions
Multistate Filing
Supports returns filing for your multistate businesses
Ledger Maintenance
Summarized reports of your purchase and sales transactions
How does GST Filing works? (For Tax Consultants)
Sign Up
Simply register with email and phone number and ready to use the software.
On board your clients
Onboard your clients yourself with GSTN or even your clients can nominate you as their tax consultant.
Prepare and file returns
System reconciles the data and make it ready for you to review and file returns.
How does GST Invoicing works? (For Tax Payers)
Sign Up
Simply register with your email and map all your GSTN Accounts.
Create your Invoices
Use our built in GST Calculator while creating the Invoices to avoid any errors. Document all the Purchases made in the System.
Upload generated returns
Software consolidates the date and get it ready to submit it to GSTN. You can send it for Tax Consultant review or you can file yourself.
GST Registration made easy for you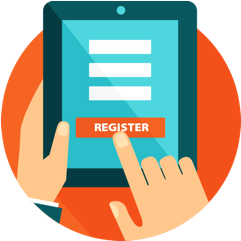 Register GST online and stay ahead on GST compliance!
For existing as well as new taxpayers who have not yet enrolled or have activated their account but not submitted the application, the enrolment window will reopen on 25th June 2017 and continue for 3 months.