GST make homes expensive after 1 july 2017
GST make homes expensive after 1 July 2017 under-construction projects will attract a goods and services tax (GST) rate of 12%. Amid all the hullabaloo over the unified tax regime in the country, speculation is the ride on would it be lead to a hike in property prices?
Taxes are being rationalized which will lead to the increased transparency. There will be more clarity post and GST in terms of taxes. Under GST, the under-construction projects are going to attract 12% tax, where previously it was about the 4.5%. This will push the market and we can expect an increase in prices. who was speaking at a press conference held by the CREDAI, RNE chapter?
Cement has seen both highs and lows in past and it directly impacts to the construction cost. Any increase in the cement prices will directly influence to the construction cost of a project. The government is also working on correction of minimum wages. From here, the market will only move ahead so the best time to buy the house is now. Home loan rates are low and the market gives end users and investors the right climate to buy," adds Garg.
The GST rate for steel has been finalized at the 18% which is expected to benefit in the long run for other sectors as well. Cement prices are the expected to go up marginally, it has been put in the 28% tax slab from the earlier 23-24%
Key Features
Real-Time Notifications
Notifications of pending returns Due dates and mismatches
Robust Platform
Experience cutting-edge technology that is reliable and highly scalable.
Safe & Secure
All of your data is safe and never worry about hard-drive crashes
Mobile Solutions
Access data anytime from multiple locations through this cloud-based platform.
Auto Reconciliation
Eliminate human errors and let system reconcile the returns for you
Multiple Users
Allow data access to multiple users with access permissions
Multistate Filing
Supports return filing for your multistate businesses
Ledger Maintenance
Summarized reports of your purchase and sales transactions
GST Registration made easy for you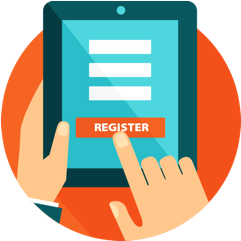 Register GST online and stay ahead on GST compliance!
For existing as well as new taxpayers who have not yet enrolled or have activated their account but not submitted the application, the enrollment window will reopen on 25th June 2017 and continue for 3 months.